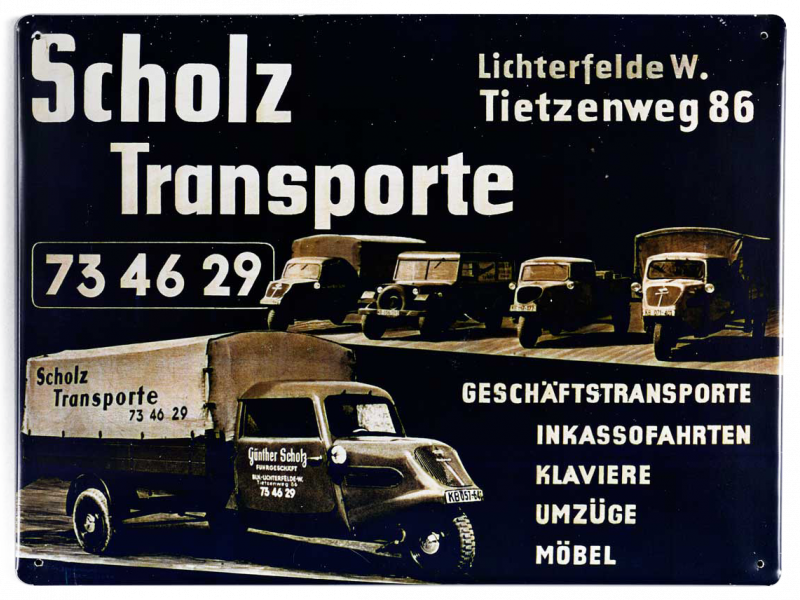 History
1945. Berlin is in ruins. Immediately after the end of World War II, 33-year-old Günther Scholz founded the Scholz Transporte haulage company. Back then, sand, rubble and building materials were transported by horse-drawn carriage from the Berlin Lichterfelde West site for the Reconstruction West and school meals were taken care of, too.
With the purchase of the first lorries in the 1950s, the company entered the moving and relocation business. At that time, the Steglitzer Anzeiger newspaper reported on a catastrophic move performed by the competition. Over a beer after work, Günther Scholz discusses the article with a good friend and comments that such a dilemma would be unimaginable at Scholz. Because "Things move with Scholz". The two men immediately agree: that's a powerful slogan. So, from a jolly mood, the slogan is born that to this day exemplifies our services. 
Economic growth and wealth create new transport opportunities. In the 1960s, with an eye on market demand, Scholz starts to offer the delivery of new furniture and also storage and warehousing in the 1970s. 
A new generation. In 1977, Günther Scholz hands the flourishing moving and relocation company over to his son. Ever since, Rainer Scholz has continued the expansion and constant modernisation in the best family tradition.
When the Wall came down, this presented a special opportunity. Because, while business was restricted to West Berlin for the most part before the reunification of Germany, given that moves and relocations over the transit connection rarely happened, now the opportunity arises to expand business across the whole country and on an international level. 
At the same time, the Germany-wide competition required us to be positioned better than the competitors. 
Something new in the East. In 1993 the West Berlin company acquires the 12,000 m2 sized space of a former state-owned firm (former GDR) and expands the former production hall to a 4000 m2 sized state-of-the-art consignment warehouse. 
Quality takes the lead. Today, with a fleet of 20 vehicles, the 65-strong Scholz team carries out personal and business moves and relocations of any size, both domestically and internationally. Warehousing as well as the new furniture logistics area, incl. delivery and installation, round out the full service offer. 
And since stagnation is not an option for the moving, relocation and furniture logistics experts, several changes are already planned that – as always – cater to market and customer demands.